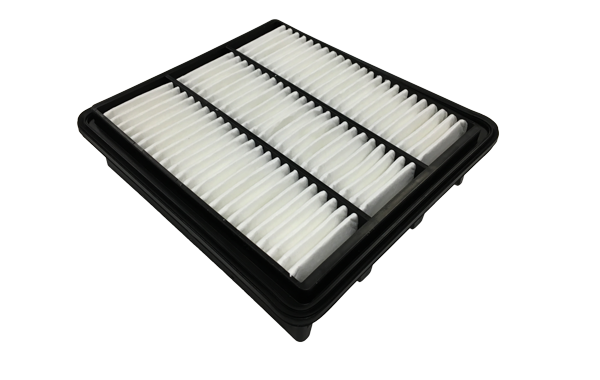 Every vehicle engine requires a mixture of fuel and air to operate properly.  Without air, the fuels can't burn and provide the energy needed to power the engine.  The air that is used by the engine needs to be cleaned otherwise dirt, dust, and debris accumulates and can cause poor engine performance.  If dirt and dust are allowed in the engine, they rub on the engine causing them to wear away and eventually they will have to be replaced.  It costs a lot less to replace a dirty air filter regularly, than it does to replace the parts of the engine it protects.
Engines depend on a proper air to fuel ratio in order to run as efficiently as possible.  When the engine is deprived of air, the ratio isn't correct and that puts more stress on your engine.  A clean air filter allows just the right amount of air into our vehicles engine and also traps harmful things from entering our engines.
A brand new air filter is typically white or off-white. If you notice any of the following problems, you may need to replace the air filter:
Decreases in your car's gas mileage.
Spark plug problems, such as rough idling or difficulties starting the car, caused by an overly rich air-fuel blend.
"Service Engine" light coming on, which can be the result of deposits in the engine.
Problems with acceleration.
Visible soot, dirt or debris on the air filter.
Even if you don't notice any problems, you should always replace the air filter according to the owner's manual, if you have any questions give us a call at Hallmark Hyundai and we would be happy to tell you more. Pollen and dust are not always visible, even in direct sunlight. Therefore, changing it on time, even if it doesn't look dirty, is the best way to ensure that the air filter is always clean enough to do its job.
Believe it or not, you can also clean the air filter between changes. Every 5,000 miles or so, you can remove the air filter and vacuum the dust and debris off of it. This simple act will result in better performance and fuel efficiency.
Keeping the air filter clean is one of the easiest ways to prevent costly repairs in the future. It can also allow you to hold onto your vehicle for many years. 
Hours
Monday

7:30AM-6:00PM

Tuesday

7:30AM-6:00PM

Wednesday

7:30AM-6:00PM

Thursday

7:30AM-6:00PM

Friday

7:30AM-6:00PM

Saturday

8:00AM-2:00PM

Sunday

Closed